Earlier this month, Minister of State Andrew Doyle TD toured Leitrim to highlight the important role that the forest industry chain plays to the local and regional economy.  The Minister placed special emphasis on the fact that all elements of the industry chain are present in Leitrim and providing long-term, sustainable employment to the county.
Minister Doyle noted that "forest management companies such as Veon, haulage operators such as McMorrow Haulage, Crowe's Sawmill and Masonite Ireland, play a large and important role as employers in Leitrim.  Furthermore, the importance of the sector is growing with the forest estate becoming ever more productive over the coming decades.  This proves that forestry has been a good choice for farmers for many years and those who already own forests in Leitrim are supporting a large, vital industry chain in the local economy."

(Minister of State Andrew Doyle TD officially opening Veon's new regional office in Drumshanbo)
Veon is Ireland's leading forest management company with offices nationwide and has unrivalled experience in commercial forest management and reforestation.
McMorrow Haulage Ltd in Dowra transports in excess of 3,000 tonnes of timber per week providing a vital link in the value industry chain between farm foresters and timber processors. With thirty employees, the company has the latest fleet management and GPS tracking technology to ensure security and efficiency.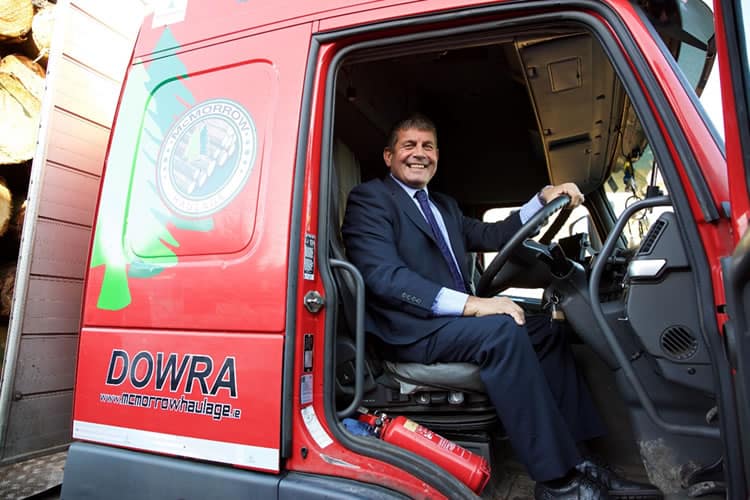 Veon Ltd works closely with McMorrow Haulage as their fleet is unique as it has variable tyre pressure equipment fitted (VTP) which distributes weight so as to reduce the risk of road damage when transporting heavy logs on small roads from Veon's clients forests.  This technology is already well proven internationally and its introduction to McMorrow's fleet is a clear demonstration of how the forest industry is working with local and national government to efficiently mobilise timber and ensure a reliable supply of this vital raw material.

(Gerry McMorrow displaying the VTP to Minister Doyle)
Robbie Crawford Forest Contractor
Crawford Brothers are based in Coolegreane, Dowra, Co. Leitrim and specialise in crop establishment and forest maintenance for Veon and a wide variety of other forest companies. Their services cover fencing, tree planting, fertilising and vegetation control with a team of up to 10 people employed in service delivery.  The service that Crawford Brothers provide is hugely important and the jobs created by such maintenance companies provide vital local employment opportunities for people looking to enter this growing sector.

(Robbie Crawford, Minister Andrew Doyle TD and Daragh Little MD Forestry Veon Ltd)
Crowe's Sawmills Mohill
Established in 1907 this third-generation wood-processing business takes in timber from across the island, from locally produced spruce to other timbers sourced further afield.  A speciality of this business is to use high quality Irish Larch and Douglas Fir to create high value products such as timber cladding used in housing across Ireland. Crowe's Sawmills manufactures and supplies a wide variety of bespoke timber products from post and rail fencing to garden gates and timber barns. Their products are distributed nationwide and can be seen a wide variety of outlets across the country, not to mention being seen in many home entrances and gardens.
Crowe's Sawmills clearly demonstrates the value chain in forestry i.e. trees are planted and managed locally by foresters, grown by farmers, harvested and hauled by a Leitrim based contractor, and ultimately processed in Mohill to become a valuable end product which is then sold and distributed.

(Mack Crowe, Paul Brosnan Marketing Director Veon Ltd, Alan Crowe and Minister Doyle)

Alan Crowe of Crowe's Sawmills hosted Minister Doyle along with Veon's north west region foresters, and McMorrow Haulage in Mohill.
Masonite Ireland
Leitrim to North Africa
Did you know that doors manufactured by Masonite Ireland in Carrick-on-Shannon, using locally grown timber, are exported worldwide?
Masonite Ireland door skins store carbon from wood residues and wood chip for decades and their raw material emanates from commercial Sitka spruce managed plantations in Leitrim.
Many of the 144 employees of Masonite Ireland are part-time farmers from Leitrim
Masonite Ireland's annual expenditure is circa €25 million, 90% of which is spent nationally
Other local manufacturing companies benefit from Masonite Ireland such as Valspar paints who are suppliers to Masonite Ireland
Masonite Ireland completes the product cycle.  Masonite Ireland uses sawmill residues and adds value to them by creating a high quality product door-skin, manufactured in Carrick-on-Shannon and then exported around the globe.
Located on a 31 hectare site just outside Carrick-on-Shannon, Masonite Ireland is an important local employer that contributes strongly to both the local and national economy.
As with all players in the forestry value chain, it is not just about timber.  To make their product ready for the market, Masonite Ireland also require paints and resins sourced from Irish suppliers including from Ballinamore, Co Leitrim.  However, because of the nature of the product that Masonite Ireland produces, the timber supply must be sourced locally.  This is another example of how essential Leitrim's forestry sector is to the local economy as it is timber grown locally that generates further demand for other raw materials to enable Masonite Ireland to manufacture a high value end-product that is exported worldwide.
https://www.veon.ie/wp-content/uploads/2018/06/veon-logo2.png
0
0
Stephen Barr
https://www.veon.ie/wp-content/uploads/2018/06/veon-logo2.png
Stephen Barr
2017-11-24 12:22:20
2018-09-20 15:59:59
Minister of State Andrew Doyle tours the Forestry Value Chain in Leitrim to highlight the importance of the forestry sector to local employment and prosperity.